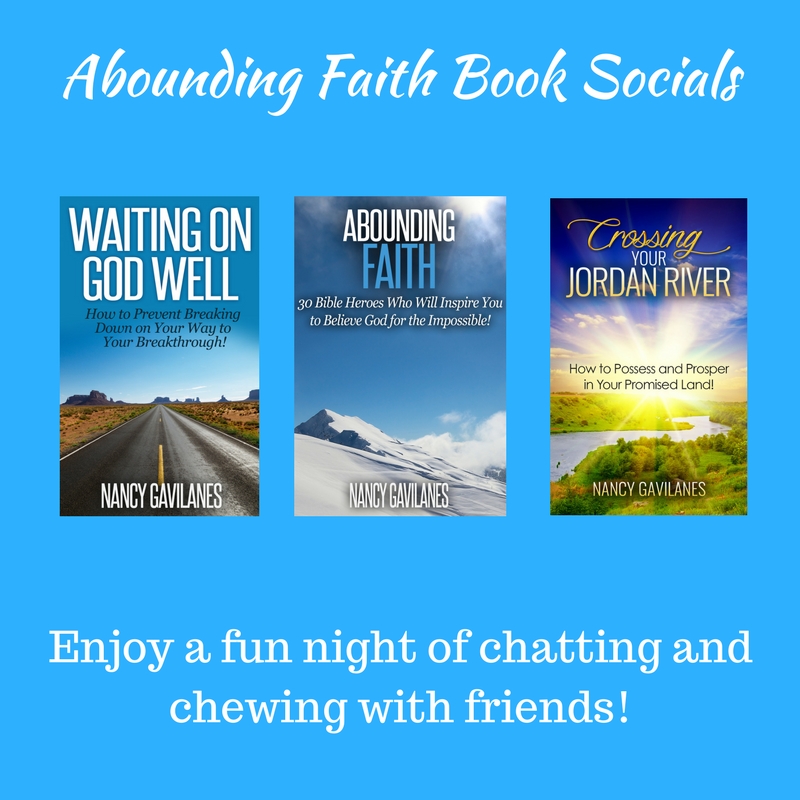 Books are better when you can share your thoughts with your friends over yummy treats!
If you're looking to host a fun gathering filled with faith, fellowship, and good food, why not host an Abounding Faith Book Social with your friends, family, small group, book club, or community members? It's super simple!
Here are 5 easy steps to help make your Abounding Faith Book Social a fun and inspiring gathering:
Step 1
Choose your favorite meeting spot. It could be your living room, your church, or other cozy place where you and your guests can enjoy fellowship and food. Then find a date and time that works well for you and a majority of your guests.
Step 2
Choose the book(s) you will be reading and discussing at your Abounding Faith Book Social. You could give your guests the option to pick their book depending on where they are in their faith journey, or you could choose one book to focus on at your first gathering and save the other two for your future socials.
Waiting on God Well is perfect for those who are struggling as they wait for God to fulfill His promises to them.
Abounding Faith is perfect for those who are facing what seems like impossible situations in their life.
Crossing Your Jordan River is perfect for those who would like to learn how to possess and prosper in their Promised Land.
Your guests can buy the books in print or Kindle on Amazon.
Step 3
Choose your theme and invite your friends!
A few theme suggestions are:
Books and Treats
Froyo and Friends
Chips, Dips, and Chats
You get the idea! The sky is the limit for what treats you'd like to serve. You could provide the snacks, have a potluck, host a BBQ or pizza party, etc.
Step 4
Give folks time to order and read whichever book you choose to focus on at your Abounding Faith Book Social. Pray over your guest list and the plans for your event. Check in with your guests as the date gets closer. Encourage them to come even if they haven't finished reading their book.
Step 5
Have fun!!!
Here are some ideas to help make your Abounding Faith Book Social a hit:
Play an ice breaker at the start of your gathering.
Break up into groups to discuss the books and make sure everyone has a chance to share.
Enlist the help of friends to help guide the discussions of each of the books.
End in prayer and on time.
Would you like more help in planning your Abounding Faith Book Social? The Abounding Faith Book Socials Leader's Guide has:
A handy Planning List
Discussion questions for each book
Extra theme ideas
Sample language for your invite and social media posts
And you get access to a special, short video greeting you could play at your gathering
For a limited time, the Abounding Faith Book Socials Leader's Guide ebook is available for only $5.99.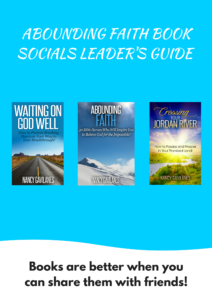 Please note all sales are final.
***Special bonus offer for large groups. If you have 20 or more confirmed guests coming to your Abounding Faith Book Social and would like to have me join you for a few minutes via FaceTime, Google Hangouts, or Skype, please email your request and event details to info@AboundingFaith.com. If you plan to have a group of 100 or more and you're interested in inviting me to come speak live at your Abounding Faith Book Social, please email your details (including your speaker's budget) to info@AboundingFaith.com and I'll prayerfully consider it!
No matter what the size of your group, I pray you and your guests will be inspired by Waiting on God Well, Abounding Faith, and Crossing Your Jordan River! I'd love to hear how your Abounding Faith Book Social goes and would love to see photos or videos! Please email them to info@AboundingFaith.com or post them to Facebook, Twitter, or Instagram.
Thank you for your support and encouragement! May God give you and your guests a fresh revelation of His amazing love for you, and may you and your group be inspired to live your God-given dreams! Blessings!