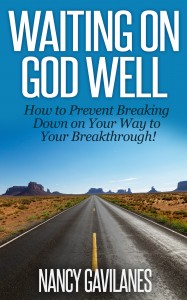 Are you frustrated and anxious because you don't see God moving in your life?
Are you tempted to give up and walk away from all that God has promised you?
Don't quit in the middle of your journey! Waiting on God Well: How to Prevent Breaking Down on Your Way to Your Breakthrough provides insightful tips, practical action steps, and inspiring Bible verses to encourage you through whatever valley, desert, or wilderness you are in.
This book will help you not just go through your situation but grow through it. It will remind you to believe God for the impossible!
Learn more about Waiting on God Well by clicking here and watching this interview on the show "Open".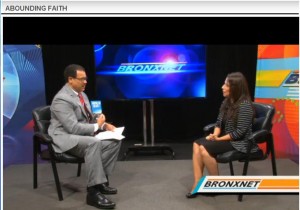 What Readers are Saying:
"Waiting on God Well was quite insightful and encouraging. It gave some very practical tools that can help us continue waiting on the Lord and not give up!"                                                                 – Pastor Lillian Gutierrez, Love Gospel Assembly
"Waiting on God Well is a good and simple read with excellent scriptural references/meditation and (my favorite), the action steps. They're so HELPFUL! I feel that women, men or anyone who's willing to seek God's guidance can benefit from you book." – Manni Lee, Associate Executive Director, Women of Wonder (WOW)
"Waiting on God Well provides practical ideas on how to wait on God and what to do while you're waiting. Nancy demonstrates that "waiting" is a normal part of life and encourages the reader to trust God for His perfect timing. She backs her thoughts up with Scripture and always points to God as the author of our lives."                                                                                     – Rochelle Traub, Writer
"Waiting on God Well is an encouraging book that reminds us that we don't have to put our life on hold while we wait upon God. The book reminds us that God has a purpose for us even in our season of waiting and is a sweet reminder that He is taking care of us and growing us even in difficult times. This book has been a huge blessing to me!" – Christina Phan, Connect Group Leader, Every Nation Church New York City
"Waiting on God Well gave me time to address a deep prayer request of my heart I had sort of 'buried." I took your book on a plane trip, underlined and prayed my way thru, even journaling some. Thank you for your encouragement!" – Anonymous
"Waiting… not something that any of us in this Twitter, web-feed, microwave-ready world want to do– but we have to! Rarely does God answer our prayers according to our timing. In Waiting on God Well: How to Prevent Breaking Down on Your Way to Your Breakthrough, Nancy Gavilanes has provided her readers with solid biblical advice for what to do during these times of waiting. Coming alongside her readers "not as some expert or scholar who has this whole waiting thing down," Nancy shares as a go-getting dreamer struggling to make sense of the almost-audible divine, "W-A-I-T!" The questions to ponder, action steps, and power verse at the end of each chapter encourage readers to actively wait on the Lord, trusting that what He has promised, He will fulfill." – Heidi Jensen, Author, Speaker, Teacher, Global Service Network
"Just wanted to let you know that I accomplished reading your book in a couple of hours. I could not put it down. It was such an inspiring read from beginning to end. Thank you for allowing God to use you in such a powerful way and for putting yourself out there so that we could learn to wait well. I ministered to someone today and was able to share some of the excerpts from your book." – Vivian L.
"Just finished reading Waiting on God Well. I was very encouraged by Nancy's insights into the Dark Night of the Soul and the advice/encouragement for those going through. Great use of supporting scripture. Nancy, I see why journalism is your craft. Well written and easy to receive. Kudos! This should be a hot seller." – Hector P.
"Just finished reading Waiting on God Well. I was very encouraged by it and hearing Nancy's stories about how God came through! I can relate so much as though it was written for me in this season of waiting. Great encouragement and use of scripture, it will build up your faith. I was very blessed!! I highly recommend this book to everyone, whether you are entering a season of waiting in your life or coming out of one, you will be blessed!" – Aaron L.
"Waiting On God Well is an inspiring quick read and handy book that you can pick up to encourage yourself and others during your season of what feels like endless soul searching waiting. I love the honesty of pg 42, " This season (of waiting) could be your finest one as Christ's witness. Your unsaved loved ones who know what you're going through will take notice and wonder how you can still serve God with all that you're facing." It's full of Faith empowering KJV Scripture!" – Dano
"Waiting on God Well is a thought provoking quick read! It can be used as a daily devotional or a bible study guide. It is so versatile that small groups could use it as a weekly guide. The author has a lot of insight and gives good guidance on waiting on the Lord. I highly recommend it." – Anonymous

Here's a clip of from a Book Talk: