"Nancy is an amazing woman and servant of God. Her gifts of wisdom and charisma draw many to her. She delivers God's word in a way that touches the heart and the soul." Christina Phan, Former Connect Group Leader, Every Nation Church New York City
__________________________________________
Everyone could use a little burst of encouragement in their faith every now and again.
I've had the privilege of speaking to many lovely groups including at the United Nations, Nyack College, The Bowery Mission Women's Center and at various churches including giving my brief testimony at my home church Times Square Church! I'd be honored to come speak at your church, school, conference, retreat, or outreach event!
Some of the topics I speak about are:
"Be Strong and Courageous!" (Based on my book Crossing Your Jordan River: How to Possess and Prosper in Your Promised Land available on Amazon).
"The ABC's of Waiting on God Well" (Based on my book Waiting on God Well: How to Prevent Breaking Down on Your Way to Your Breakthrough available on Amazon).
"Believe!" (Based on my book Abounding Faith: 30 Bible Heroes Who Will Inspire You to Believe God for the Impossible available on Amazon).
I am also available to host my signature workshop "SOAR: Dare to Live Your God-Given Dreams!"
I'm open to speaking about other topics included those listed below or about a topic that matches the theme of your event:
God's Amazing Love for Us!
Afflictions can be Blessings in Disguise.
Trusting God No Matter What!
Living out the Decision to Follow Christ.
The Benefits of Going on Evangelism Outreaches and Short-Term Mission Trips.
Here's a clip of me reading from the Foreword of Waiting on God Well:

Please visit my Media page to view and listen to some of the recent interviews I've done. There are also more than 80 short and encouraging videos shot here and abroad on Abounding Faith's YouTube channel. 
If you'd like to invite me to come speak at your event, please e-mail the following information to info@aboundingfaith.com and I'll prayerfully consider your request:
Who is the main contact person?
Which church/organization is hosting the event?
Please describe the event. (Theme? Location? Time?)
Who is the intended audience? (Seekers/New Believers? Mature Believers? Mixed? Adults? Young Adults? Youth?)
Please indicate your church's/organization's proposed speaker's budget.
__________________________________________
What People are Saying: 
"Nancy's message was very relevant, and the women and I enjoyed her!"                   Vivian Hernandez, Life Skills Manager/Counselor, The Bowery Mission Women's Center
"It was a pleasure having Nancy speak at our breakfast for women and seniors, which was also the first time we had MEN in attendance. We were all blessed by her reading about the birth of Christ and about his mother Mary found in the Gospel of Luke. Nancy brought the scriptures to life in a very profound way and many were touched by her anointed prayers for us all. We look forward to having her visit us again, and may God continue to bless her mightily for His Glory."
Lisa Pitts, Former Women's Ministry Leader, Evangel Church
"I have had the privilege to work with Nancy Gavilanes several times. Nancy is an inspiring woman. She proves that when you have a dream to accomplish something big, you can find a way. As a guest on both a recent episode of the Living At My Best podcast and the video interview series of Success and the Female Entrepreneur, Nancy provided information and inspiration. She outlined practical, tangible steps to prepare for life as an entrepreneur. She also gave insights of the internal journey she faced and provided a roadmap for all aspiring entrepreneurs. I highly recommend Nancy Gavilanes as a speaker or guest. She is articulate and passionate and very easy to work with."                                                                                                                           Donna Woolam, Author, Speaker, Coach, Advocate For the Female Entrepreneur of Faith
"I was so honored when Nancy agreed to be one of our Panelists in the "Confidence in Christ" Tele-conference. The love and transparency she shared with myself and the Ladies on the call was amazing. We were all so blessed by the story of Lazarus and how she tied that into today's world. Nothing can hold us back if we have confidence and faith in our God. Nancy is a light, and she is a gift to a dying world. We appreciate her so much, and would love to have her back again on our platform."
Kimberly Arrington, Creator and CEO, I AM ME University

"I am grateful for those who go out and share the Gospel all around the world, but sometimes the need is in our own backyard. Thank you, Nancy, for sharing your time and bringing the message of salvation."                                                               Chaplain Jamary Flores, Ministry Leader, Woodcrest Rehabilitation Center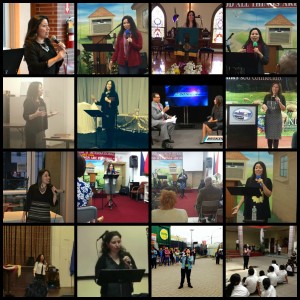 ________________________________________
Want to know what's happening at Abounding Faith? Sign up to get free updates e-mailed to you. For a limited time, you'll also receive a free short, encouraging message. Sign up today!